100 Centennial -
More…style="color:#cc33ff;">** NEW UPDATE- NOVEMBER 2022 **
2023 EVENT PLANNING!
AMADOR HIGH SCHOOL 100 YEARS
CENTENNIAL CELEBRATION & REUNION FOR ALL
1923 - 2023 - 100 YEAR CELEBRATION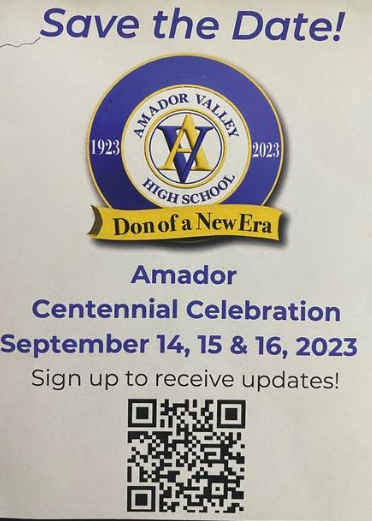 SCAN THE QR CODE ABOVE
or
And Join The Direct Mailing List - For Updated Information
&
A Special Event Feature
Amador Valley High School 'Golden Don' Alumni Marching Band
Includes our very own Class of 1970, Adalia (Boneza) Loder - Clarinet
Betty Gail (Mote) Hunt - Glockenspiel & Frank Jensen - Drum Major, Trombone
Interested in joining the Band? Contact Frank Jensen - Jensen76@comcast.net
https://www.facebook.com/groups/229220805691256
Details Of Interest - See Website(s) Above
No Dinner Banquet Event Planned
(Links to these events will be updated via the Centennial Website all year)
Opening Reception 09/14/2023 - 7:00PM - Museum on Main
Campus Tours 09/15/2023 - 10:00AM - Amador High School
Homecoming Parade 09/15/2023 - 2:00PM - Main Street
Annual Amador Pigskin 09/15/2023 - Amador High School
Amador Recognitioin Brunch 09/16/2023 - Amador High School
Newsletter - amadorvalleycentennial.com
A Class of 1970 dinner, picnic, gathering could be an option (for us only)
More Specific Details On The Centennial Event As We Learn Them
--Volunteers to Assist--
A Possible 1970 Event May Be Needed!
JOANIE FIELDS IS CO-CHAIRING THE EVENT