ANNOUNCEMENTS
** NEW UPDATE- NOVEMBER 2022 **
2023 EVENT PLANNING!
AMADOR HIGH SCHOOL 100 YEARS
CENTENNIAL CELEBRATION & REUNION FOR ALL
1923 - 2023 - 100 YEAR CELEBRATION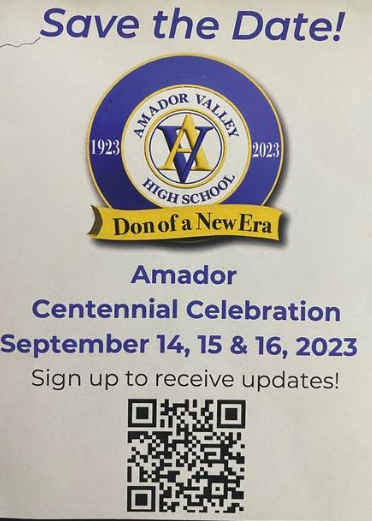 SCAN THE QR CODE ABOVE
or
https://www.amadorvalleycentennial.com/
And Join The Direct Mailing List - For Updated Information
&
A Special Event Feature
Amador Valley High School 'Golden Don' Alumni Marching Band
Includes our very own Class of 1970, Adalia (Boneza) Loder - Clarinet
Patti Kuwaye (Wiseman) - Glockenspiel Betty Gail (Mote) Hunt - Glockenspiel
Frank Jensen - Drum Major, Trombone
Interested in joining the Band? Contact Frank Jensen - Jensen76@comcast.net
https://www.facebook.com/groups/229220805691256
Details Of Interest - See Website(s) Above
No Dinner Banquet Event Planned
(Links to these events will be updated via the Centennial Website all year)
Opening Reception 09/14/2023 - 7:00PM - Museum on Main
Campus Tours 09/15/2023 - 10:00AM - Amador High School
Homecoming Parade 09/15/2023 - 2:00PM - Main Street
Annual Amador Pigskin 09/15/2023 - Amador High School
Amador Recognitioin Brunch 09/16/2023 - Amador High School
Newsletter - amadorvalleycentennial.com
A Class of 1970 dinner, picnic, gathering could be an option (for us only)
More Specific Details On The Centennial Event As We Learn Them
--Volunteers to Assist--
A Possible 1970 Event May Be Needed!
Joannie Fields Is Co-Chairing The Event
Golden Don - Alumni Marching Band - Frank Jensen + The Team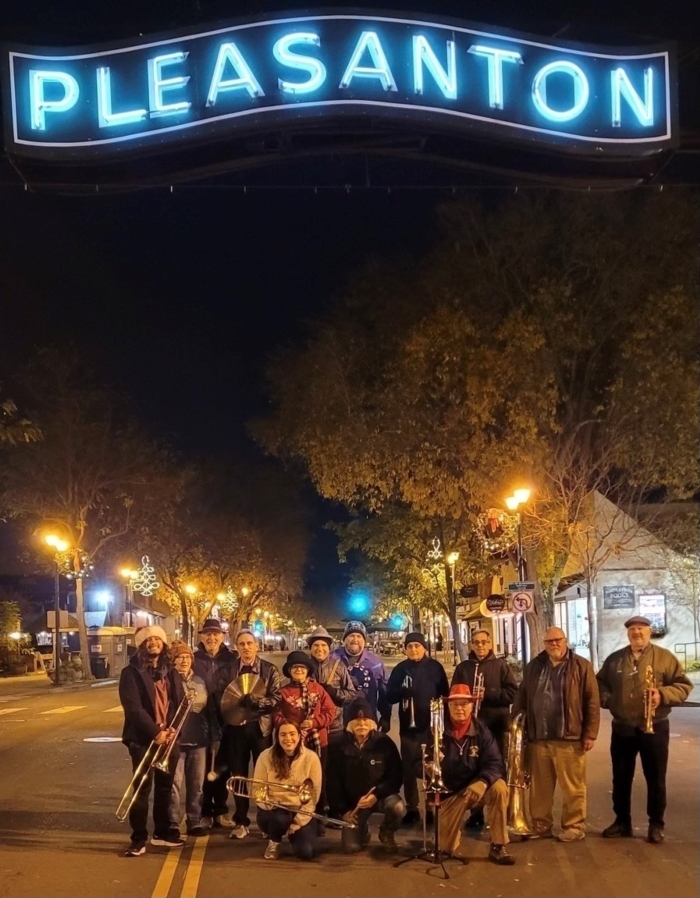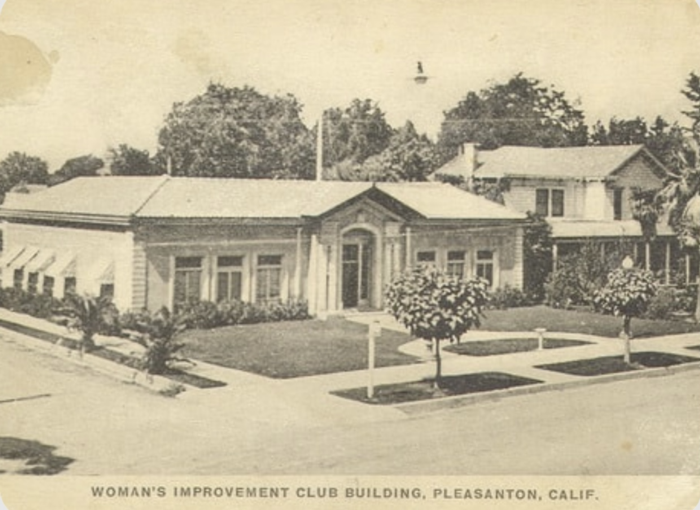 ~ ~ ~ Please Scroll Down ~ ~ ~
For Updates and More Information
Please Keep Your Contact Information "Up To Date"
We Have Authorized Our Website To Send Out The
"New Year" Automated Message - Requesting You Update Your Information
The Amador 1970 Alumni Team
Greetings Everyone
Great news today for our classmates who are active on Facebook! You can now do all of the things you can do on our class web site from inside Facebook. It's called Class Connection, and you'll find it's very simple to join and use. Follow these 3 quick steps to get connected:
1. By Logging in here, you've completed Step One
2. Click the "Class Connection" link under Member Functions
3. On the Class Connection Join Screen click the Blue 'Join Class' and accept App Permissions
That's it - you're Facebook connected!
There are some exciting new features available here such as the ability to send your Notify Me notices to the Facebook notification globe. You can use the Easy Invite tool to help us find missing classmates and invite them to join our class. Class Connection also provides a Visit Another Class feature that allows you to browse around other classes.
Here's a few important things you should know:
Everything you do on Class Connection is mirrored on our class web site. Everything you do on our class web site is mirrored on Class Connection. I.E. they work as one. Class Connection is just a convenient method of participating with our class from the Facebook environment.
Class Connection is 100% as private and secure as our class web site. No personal/private data whatsoever is shared with Facebook. The Class Connection developers made an overview video about the topic of privacy here:https://www.youtube.com/_eHf7tWS8sE
Your Profile privacy settings are honored on Class Connection. Only the people who you're already permitted to view your Profile are the same people who can view your Profile using Class Connection. Click Edit Profile if you wish to review these settings.
TIP: For quick access to Class Connection add to Facebook Favorites. See example here:
IMPORTANT NOTICE ! So you can receive all messages from your classmates and our website ... and if you use 3rd party spam filters, Please add: [ Class Creator: noreply@classcreator.net ] as a freindly email sender. This is called Whitelisting. Otherwise, use the name and email address above, and put it in your email "Address Book" just like you'd add any friend. (You can't send email to noreply@classcreator.net, it just lets your email provider know that we are sending you friendly emails and not spam).
PRIVACY NOTICE: All contact information (address, phone number, e-mail address) entered into this website will be kept confidential. It will not be shared or distributed. Your contact information is private: your street address, e-mail address, and phone number cannot be seen by the classmates unless you grant permission on your Profile. When someone clicks on your name, the only contact information they will see is your city and state and whatever information about yourself you choose to put on your Profile. Unless you explicitly grant your permission, your email address is not visible, although an email can be sent to you using the contact box at the bottom of your Profile page. Note, however, if you send a message to someone through their Profile page, the Classmate will see your email address so that they can respond.
MEMBERSHIP DISCLAIMER: This is a private Web Site for Class of 1970, Amador Valley High School Alumni/Graduates. Faculty, and Other Amador High Alumni have been invited as Guests to our Website for various reasons. All membership, regardless of graduating year, will be granted or denied, at the discretion of the site administrator. Any/all memberships may be revoked at the discretion of the site administrator. The privacy and security of all registered members will be considered a priority for the purpose of invitations, admittance, denials and revocations.