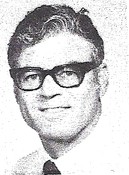 A Message Shared by Chris Parker, AHS 1970 -
Eileene (wife) Gene, Chris, Candace, Cherie

Mr. Lewis Parker, Counselor, Teacher and I've been told, a Mentor too many of us passed away January 2002. What I'd like share about my father are some of the things you may not know. During WW II, he served in the Navy, South Pacific. Dad was recipient of several battle ribbons and a few other commendations. He was already on the beach head, the day General MacArthur returned. Dad drove one of those landing crafts caring army combat units ashore. When at sea, he stuffed shells into anti aircraft gun #34 on APA-27, troop transport USS George Clymer. We the Class of Amador 1970 were in the second grade when he transferred to Pleasanton after teaching in Turlock. Starting in the shops, industrial arts wing with wood, metal and auto repair classes he also advised the FFA. Moving through the class rooms as a substitute and becoming a counselor. Years later after retiring he wondered what happened to whom and where they were. Occasionally tell stories on the lighter side and every once in a while some students would reach out and contact him to tell of their accomplishments. I could go on, but to be brief to let you know and answer some of your thoughts. I'll stop. Thanks for your comments when asking how he is. R.I.P Dad, I miss you so much, eight years already, seems like yesterday.